We start by creating a folder. We call it cer_as_exe and here we put our root certificate that we want to distribute and a small installation script.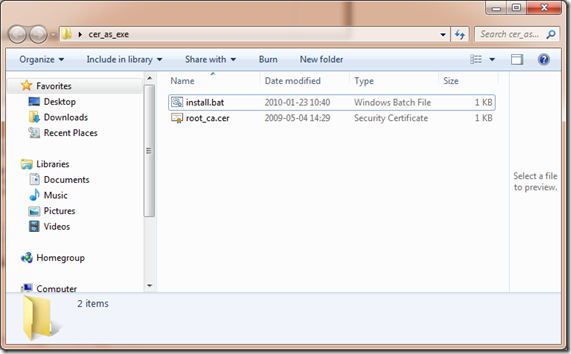 Our installation script is not that big.
@echo off
certutil -addstore -f -enterprise -user root %tmp%\root_ca.cer > NUL
del /F %tmp%\root_ca.cer > NUL
del /F %tmp%\install.bat > NUL
This is a very small script that installs a root certificate from a file to the root certificate container in the certificate store for the computer and the user. Then it does a quick cleanup by removing the original root certificate file and installation script that is unpacked in to the %tmp% folder by our installer. Now we need to pack everything as an .exe file that will install our root certificate automatically.
Continue reading "How to distribute root certificates as exe files" »