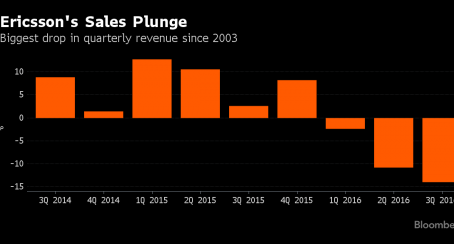 Ericsson and Nokia, the number two and three suppliers, have their debt rated as junk. Verizon is selling, what should have been its future, their cloud business, to IBM. AT&T is loosing wireless subscribers every quarter. Telefonica, the innovation leader, is scaling back its IoT Smart City business. Telecom as an industry is getting to a crossroad. Whatever road they take will decide their future. The closest resemblance is the moment IBM discovered that PCs and servers were a commodity. They decided to become a services and software company. Competitors of them did not. These competitors might not be around for many more years. Communication has been commoditised. Calls and SMSes are dead. Long live WhatsApp and others! Even Twilio, the SMS and call disruptor, is having problems.
What are the key problems?
1) Telecom is depending too much on call and SMS revenues
Take away call and SMS revenue and balance sheets are very negatively impacted. People however every year call and SMS less.
2) Telecom connectivity is a commodity
Everybody expects (mobile) broadband to just work. You can't see the difference between providers if everything works. If it does not then you go out of business quickly. Sounds very much like an energy company.
3) Telecom lost their relation with the customer
The only relation most telecom operators have with their customer is when there is a problem. You hardly go to a website or app owned by your operator. Over the top players have taken over the relationship completely. Apple, Google, Facebook and Amazon are the overlords.
4) The telecom industry is slow and solutions overly complex
The telecom likes to make solutions extremely complex with bizarre standards for each individual communication channel in their back-office. Each service needs to be integrated into often 30 plus services from billing, support, inventory, to many others. These integrations take often 6 to 24 months. The telecom industry is working on a 5G standard which is foreseen to be finalised by 2020. By that time it is probably already irrelevant because in the next two years software defined radio chips will get under $10 dollars, hence any app would be able to use its own optimised wireless protocol if it so desired.
5) The telecom operators are in denial and are behaving like copycats
Every new trend has been copied from hosted email, portals, social networks, app stores, cloud, IoT and many more. Operators have never wanted to admit that they are just followers. They spend billions on either launching late a half baked copy or buying yesteryear's innovator, e.g. Yahoo, Lycos, etc. for way too much. The telecom industry is in denial. They told everybody for years that only Telco-Grade was what they could use. IT-Grade was not good enough. All of a sudden Google and Facebook launch global networks that out-innovate theirs in every aspect.
6) Telecom operators are a necessary evil for DotCom companies
If humanity is your product, then you need connectivity. Hence as long as telecom operators provide that connectivity, you are happy to work with them. However we are coming to a point where telecom operators are becoming a limiting factor for the biggest social network in the world. If it wants to connect with the unconnected billions then it needs to do it in alternative ways. Perhaps team up with other disruptors that want to shoot four thousand plus satellites into space and create a global broadband satellite network. Perhaps use drones or balloons. Whatever you do, start with open sourcing the telecom equipment. Bye, bye, Nokia, Ericsson and Huawei hardware profits!
So what is next?
Operators can do two things. They can keep on doing what they are doing and in this case DotComs will win. The third, fourth or fifth operator in each country will go bankrupt. So DotComs will just buy them for cents on the dollar to get their hands on the still viable spectrum licenses. If that happens, DotComs don't need the operators any more. They can offer free data plans in exchange for people signing their privacy away and way too many will probably do so.
Operators can try an alternative approach. Ask innovators to help them innovate, deliver enticing new revenue generating services quickly and bring their costs under control. If telecom equipment is going to go open source, why not accelerate this trend? It will bring down costs exponentially. However add app stores, hence millions of small enterprises will be able to make apps for mobile base stations, DSLAMs, broadband modems and many more. This will allow operators to avoid investing in end services but become a broker instead. They become the platform for others to make money on top. This is exactly what the DotComs have been doing for years. Let each customer decide which services they want. Enable them to buy apps from a telecom app store and run them on the broadband modem, the mobile base station and in the network. Operators are underestimating the power of enabling others to help them. Let your partners make money on top of your infrastructure. The broker always wins!
It is one minute to twelve and the telecom money generating spell is about to wear off. Operators should use the few time they have left wisely. Do they want to continue following a failed path or do they want to revive? If they prefer the last option then my advise is that they should not let the upcoming crowdfunding campaign for open source base stations with app stores fail. If they do, they might just as well hand over their spectrum licenses to the DotComs, it will save them a lot of hardship…
Src: https://www.linkedin.com/pulse/telecom-crossroad-business-starting-fail-maarten-ectors