DHAKA, Bangladesh (AP) — A seamstress buried in the wreckage of a collapsed garment factory building for 17 days was rescued Friday, a miraculous moment set against a scene of unimaginable horror, where the death toll shot past 1,000.
Reshma survived, in remarkably good shape, by eating dried food that was in her area and drinking spare amounts of water with her. She was discovered on the second floor of the eight-story Rana Plaza building, where crews have been focused on recovering bodies, not rescuing survivors, for much of the past two weeks.
"I heard voices of the rescue workers for the past several days. I kept hitting the wreckage with sticks and rods just to attract their attention," she told the private Somoy TV from her hospital bed as doctors and nurses milled about, giving her saline and checking her condition.
"No one heard me. It was so bad for me. I never dreamed I'd see the daylight again," she said.
"There was some dried food around me. I ate the dried food for 15 days. The last two days I had nothing but water. I used to drink only a limited quantity of water to save it. I had some bottles of water around me," she said.
Once Reshma finally got their attention, the crews ordered the cranes and bulldozers to immediately stop work and used handsaws and welding and drilling equipment to cut through the iron rod and debris still trapping her. They gave her water, oxygen and saline as they worked to free her.
When Reshma was freed after 40 minutes, the crowd erupted in wild cheers. She was rushed to a military hospital in an ambulance, but her rescuers said she was in shockingly good condition, despite her ordeal.
Abdur Razzak, a warrant officer with the military's engineering department who first spotted her in the wreckage, said she could even walk.
"She was fine, no injuries. She was just trapped. The space was wide," said Lt. Col. Moyeen, an army official at the scene.
Reshma told her rescuers there were no more survivors in her area. Workers began tearing through the nearby rubble anyway, hoping to find another person alive.
"Reshma told me there were three others with her. They died. She did not see anybody else alive there," said Maj. Gen. Chowdhury Hasan Suhrawardy, the head of the local military units. "We will continue our search until a survivor or a dead body is there."
The woman survived for more than two weeks in temperatures that touched the mid 90s (mid 30s Celsius). She scrounged for whatever food she could find, Suhrawardy said.
Then, when the workers with bulldozers and cranes got close to the area where she was trapped, she took a steel pipe and began banging it to attract attention, Razzak said. The workers ran into the dark rubble, eventually getting flashlights, to free her, he said.
Reshma's mother and her sister, Asma, rushed to the hospital to meet her.
Hundreds of people who had been engaged in the grim job of removing decomposing bodies from the site raised their hands together in prayer for her survival.
"Allah, you are the greatest, you can do anything. Please allow us all to rescue the survivor just found," said a man on a loudspeaker leading the supplicants. "We seek apology for our sins. Please pardon us, pardon the person found alive."
Workers at the site had been clearing the rubble since the collapse April 24. More than 2,500 people were rescued in the immediate aftermath of the disaster. However, no survivors had been found in the wreckage since April 28, when Shahin Akter was found amid the wreckage. As workers tried to free her, a fire broke out and she died of smoke inhalation.
Prime Minister Sheikh Hasina, called Reshma in the hospital, and the rescued woman began crying on the phone, Suhrawardy said. She told Hasina: "I am fine, please pray for me," he said.
Hasina, whose government has come under criticism for its lax oversight over the powerful garment industry, was racing to the hospital by helicopter to meet her, and congratulated the rescuers, officials said.
"This is an unbelievable feat," Hasina was quoted as saying by her assistant, Mahbubul Haque Shakil.
The death toll from the disaster soared past 1,000 Friday, with officials confirming that 1,038 bodies had been recovered from the rubble of the fallen building, which had housed five garment factories employing thousands of workers.
The disaster has raised alarm about the often deadly working conditions in Bangladesh's $20 billion garment industry, which provides clothing for major retailers around the globe.
Brig. Gen. Mohammed Siddiqul Alam Shikder, an army official overseeing the recovery work said the bodies being recovered were badly decomposed and identification was difficult.
"We are working carefully," he said. "If we get any ID card or mobile phone with them, we can still identify them. Our sincere effort is to at least hand over the bodies to the families."
Brig. Gen. Azmal Kabir, a top official of the military's engineering section, said more than half of the estimated 7,000 tons of debris have been removed from the site but he did not know when the work would be finished.
http://news.yahoo.com/bangladesh-workers-survivor-factory-rubble-104205204.html
After 16 days buried in Bangladesh: 'I'm alive!'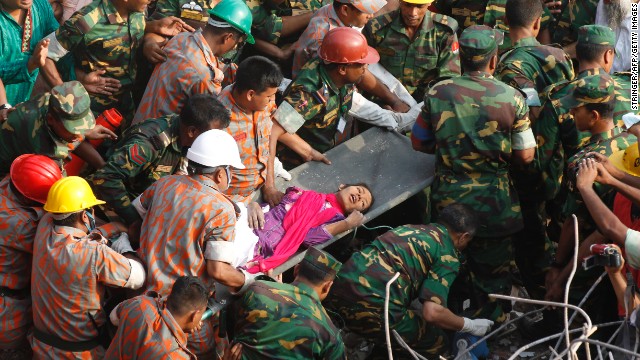 Dhaka, Bangladesh (CNN) — The first sign of survival came when recovery workers heard an iron rod strike against the massive rubble of the nine-story building outside the capital of Bangladesh, a fire service official told reporters at the site.
"I'm alive!" a woman's voice said as workers approached the basement 16 days after the building had collapsed and 10 days since rescuers had given up searching for survivors. "Please rescue me."
That account came from Capt. Ibrahim Islam, a Bangladeshi military official outside the recovery operation.
"I told her, mother don't be afraid, we are here to rescue you. … Would you like to drink water?" Lt. Col. Moazzem Hossain said, according to Bangladesh Sangbad Sangstha, or BSS, the state-run news agency.
The use of heavy machinery was ordered stopped to ensure that it did not endanger the unlikely survivor. As onlookers crowded onto the site and gaped, rescuers worked for about an hour before pulling the garment worker free. She was crying, then stopped.
Woman found after weeks in rubble
Bangladesh survivor found in prayer room
Trade rules and cheap Bangladesh clothes
Bangladesh's PM: 'Accidents happen'
After being given water and biscuits, the woman, who appeared to be about 20 years old, was whisked to Combined Military Hospital in Savar, the suburb of the capital city, Dhaka, where the building collapsed.
There, video showed her lying in bed, a nurse at either side connecting intravenous drips to her arms and a third nurse at the head of her bed. Whenever she raised her head to see what was going on, the nurse in the middle would gently push it back to the pillow and stroke her hair.
"She is fine now," Islam said.
The news spread widely and rapidly; within minutes, Prime Minister Sheikh Hasina had phoned the unlikely survivor and asked about her condition.
"It's an unprecedented incident," she said afterward, according to BSS.
The news agency said Reshma is from northern Bangladesh's Dinajpur district. She has a daughter and was working as a swing operator for Phantom Garment, which had a factory in the Rana Plaza when it collapsed on April 24.
Her rescue, which came on the same day that officials raised the death toll from the collapse by 30 to 1,043, represented a ray of hope against an otherwise grim tableau.
The building had held thousands of people, many of them garment workers.
Though rescue workers had pulled more than 2,400 others to safety, 10 days had elapsed since anyone had been found alive.
Since then, efforts have focused on retrieving corpses from the heap of broken concrete over which bulldozers and cranes have been used to speed the cleanup. Many of the bodies have been so decomposed that authorities have struggled to identify them.
"We are near the end," Islam said.
The owners of the building and the factories are under investigation over accusations they ordered workers to enter the building on the day of the collapse despite cracks that appeared in the structure the day before.
The Bangladeshi government has faced criticism for failing to tighten safety standards in the country's thousands of garment factories, where millions of people work.
The Savar building collapsed five months after a fire at a garment factory near Dhaka killed more than 100 people. And on Wednesday, eight people died in a fire at another factory in the area.
The European Union has threatened to take trade action against Bangladesh if it doesn't improve health and safety conditions for workers.
Western retailers and clothing brands that get their products from Bangladeshi factories are also under pressure to subject their supply chains to greater scrutiny.
The smell of death continues to permeate the area, prompting people passing by on a nearby highway to cover their noses. Recovery workers combing through the debris use face masks to block the stench.
Hundreds of people looking for their missing relatives have been waiting by the nearby school where bodies are taken to be identified.
Authorities have sent some of the remains to a Dhaka hospital for DNA testing, BSS reported. Those that remain unidentified are buried.
http://edition.cnn.com/2013/05/10/world/asia/bangladesh-building-collapse/index.html?hpt=hp_t1
Dhaka building collapse: Woman pulled alive from rubble
A woman has been pulled alive from the ruins of an eight-storey building that collapsed in a suburb of Bangladesh's capital, Dhaka, 17 days ago.
Rescuers said the woman, named Reshma, was found in the remains of the second floor of the Rana Plaza after they heard her crying: "Please save me."
She has been taken to hospital, but is not thought to have serious injuries.
More than 1,000 are now confirmed to have died, most of them women working in clothes factories.
The authorities said 2,437 people had been rescued, of whom about 1,000 had suffered serious injuries.
Dozens lost limbs as they were cut free from the wreckage.
The accident is one of the deadliest industrial disasters in history.
Crews using heavy machinery have begun removing rubble from the worst-damaged areas, and are expecting to find more bodies.
Brig-Gen Siddiqul Alam said rescuers had found a huge number of bodies under staircases.
Continue reading the main story
"Start Quote
Over two weeks after collapse, there is still no agreement on exactly how many workers and staff were present in the building"
Sabir Mustafa BBC Bengali service
How many missing?
"When the building started to collapse, workers thought they would be safe under the staircases. Each time we moved a slab of concrete, we found a stack of bodies," he said.
'I'm still here'
Soldiers were reported to have been preparing to break through a large concrete slab at about 15:15 local time (10:15 GMT) on Friday when the woman was discovered.
The worker who first discovered her told the BBC Bengali service: "I was cutting iron rods when I suddenly found a silvery stick just moving from a hole.
"I looked closer and heard someone calling 'Please save me'. I immediately called over soldiers and firefighters."
Officers ordered workers operating heavy machinery to stop, and rescuers used video and audio detection equipment to locate her exact position.
Crews saw a woman waving her hand, and she shouted "I'm still here" and told rescuers her name was Reshma.
Within minutes, hundreds of soldiers and firefighters rushed to the scene to help clear the rubble, says the BBC's Akbar Hossain in Dhaka.
Continue reading the main story
Rubble survivor records
Naqsha Bibi – buried for 63 days in what had been her kitchen after 2005 Pakistan quake; survived on rotten food and water
Evans Monsignac – trapped for 27 days in the rubble after 2010 Haiti tremor; stayed alive by drinking sewage water
Park Seung Hyun – pulled from the wreckage of a supermarket in South Korea in 1995, 16 days after it collapsed; drank rainwater
Pedrito Dy – spent 14 days in the ruins of a hotel after the 1990 Philippines tremor; drank water and urine
How long can survivors last?
The woman said that she was not badly hurt, and she was given water and biscuits while handsaws and drilling equipment were brought in to cut through iron rods and debris.
Rescuers worked for 40 minutes before finally pulling her from the rubble, amid cheers from the crowd.
She was taken to an ambulance and then rushed to the nearby Combined Military Hospital for evaluation and treatment.
She later told local TV from her hospital bed that she never dreamt she would see daylight again.
"I heard voices of the rescue workers for several days. I kept hitting the wreckage with sticks and rods to attract their attention. No-one heard me," she said.
"I ate dried food for 15 days. The last two days I had nothing but water."
Prime Minister Sheikh Hasina, whose government has been criticised for lax oversight of the clothing industry, spoke to the woman on the telephone.
Ms Hasina was reportedly flying to the hospital by helicopter to meet her.
Rana Plaza had housed several factories that made clothes for companies including Western retailers.
A preliminary government report suggested the collapse was been triggered when electricity generators switched on during a blackout.
At least nine people have been arrested over the accident, including the owner of the building and several factory bosses.
Woman garment worker pulled out alive 17 days into Bangladesh building collapse
DHAKA, May 10 (Xinhua) — Rescuers on Friday evening worked miracles when they pulled alive a woman garment worker named Reshmi from piles of rubble of the collapsed eight-story building 17 days after the country's worst industrial disaster at Savar on the outskirts of capital Dhaka.
Fire Department Operations Director Major Mohammad Mahbub told Xinhua that "We gave up the hope of finding any more survivor since the rescuers on April 29 failed to pull out alive female garment workers Shahiha, whom we believed was the last remaining survivor of the collapsed building."
"We've not found any survivor after Shahina," he said.
Mahbub said, "Though we gave up the hope of finding survivor but expected such miracle." "Thanks to Allah there was no mistake this time. we pulled out her alive from the wreckage at about 4:27 p.m. (local time) from a corner of a mosque in the basement of the building."
As cranes and bulldozers cut through a mountain of concrete and mangled steel, he said" Reshmi shook a pipe to draw their attention and made some sounds."
"The rescuers discovered her by a faint, distant sound. she said 'please rescue me'."
"She was rushed to a hospital shortly after being pulled out of the rubble by rescuers with hectic efforts for half an hour."
Mahbub said hundreds of rescuers who weep as their efforts to pull Shahina alive went in vain due to a fire that broke when a rescuer was cutting a steel bar to pull her out, shouted for joy.
She was too weak to talk but managed to introduce herself to the rescuers who provided her food and water before pulling out, he added.
Rescue operation leader Major General Chowdhury Hasan Suhrawardy of Bangladesh Army said she has made history as she managed to survive 17 days.
"I can't tell you right this moment exactly how did she survive. She ate whatever she got there," he said.
"When I talked to her while she was trapped, she was crying and told me,'Please pull me out'."
Prime Minister Sheikh Hasina congratulated the rescuers.
Rescuers had earlier pulled alive more than 2,437 people after the building crumbled on April 24 morning.
An official at the Dhaka district administration's control room, set up outside the building Rana Plaza to coordinate rescue operation, told Xinhua that the death toll approached 1,100 Friday afternoon after dozens of bodies were pulled out from the wreckage of an eight-storey building housing five garment factories.
The official who preferred to be unnamed said the rescuers have been continuing their efforts as the stench of decaying bodies remained strong around the ruins of the sandwiched building that crumbled like a pack of cards on April 24 at about 8: 30 a.m. local time.
Following the cracks detected just one day before the man-made disaster, thousands of workers were evacuated but none has bothered about the cracks when officials of the factories forced them on the next morning to return to their workplaces to make clothing for many major global brands.
No authentic estimate that how many bodies remain trapped in the piles of the rubble because the exact number of people inside the building at the time of the collapse has not been known, he said.
Many family members still at the scene, await bodies of their loved ones. A school ground was used to temporarily keep the bodies for identification.
An initial government probe has blamed vibrations from giant generators combined with the vibrations of sewing machinery for the collapse of the building, allegedly constructed without proper permission with substandard materials.
At least 12 people have been arrested, including the owner of the collapsed building and owners of the factories.
According to sources, almost all the fatalities are workers of the five factories — Phantom Apparels, Phantom Tac, Ether Tex, New Wave Style and New Wave Bottoms — which make clothing for many major global brands.
Apart from a bank's branch and hundreds of shops, six floors of the building, owned by a ruling party leader, housed the five garment factories which, according to the months-old data of the owners' association, employed nearly 3,122 workers, mostly women.
But the BGMEA, which is now preparing a list of all workers to disburse salary, says there were more workers in the factories than those figures showed.
The tragedy revived questions about the commitments of factory owners and their global buyers to providing safe working conditions in the 20-billion-U.S.-dollar export sector, which comprises about 5,000 factories employing more than 4 million workers, 80 percent of whom are women.
http://news.xinhuanet.com/english/world/2013-05/10/c_132373895.htm
Woman pulled alive from rubble of Bangladesh factory
(Reuters) – Rescuers pulled a woman on Friday from the rubble of a Bangladesh garment factory 17 days after it collapsed, astonishing workmen who had been searching for bodies of victims of a disaster that has killed more than 1,000 people.
Hundreds of onlookers burst into cheers as army engineers pulled the woman from the basement of the building after a workman helping to clear the wreckage reported hearing her faint cries of "Save me, save me" from beneath the ruins.
Pale, drawn and seemingly unable to walk, the woman, identified by Bangladeshi media only as Reshma, was hoisted out of the rubble on a stretcher, then loaded into an ambulance in scenes broadcast live on television.
Mohammad Rubel Rana, a workman who had been cutting iron rods, said he had alerted rescue crews after hearing a feeble voice.
"I heard a faint voice saying 'Save me, Save me'," Rana told Reuters television. "She was given water, biscuits and oxygen."
"She has been rescued and taken to a military hospital," said Bangladesh's army spokesman Shahinul Islam.
Rescuers speculated that she may have survived by drinking water that had pooled in the site when firemen doused a fire that had broken out earlier in the rescue effort.
It was not clear if she was one of the thousands of garment workers who had been working in the eight-storey building, which collapsed on April 24, a day after its owner assured factory owners and news crews it would stand for "a century".
The woman was found hours after the death toll from the world's worst industrial accident since the 1984 Bhopal disaster in India climbed above 1,000 as rescuers struggled to end the salvage operation.
SPOTLIGHT ON RETAILERS
Bodies were still being pulled from the rubble of the Rana Plaza complex, and on Friday a spokesman at the army control room coordinating the operation said the number of people confirmed to have been killed had reached 1,045.
A series of deadly incidents at factories have focused global attention on safety standards in Bangladesh's booming garment industry. Eight people were killed in a fire at a factory this week, which an industry association said on Friday may have been started deliberately.
About 2,500 people were rescued from Rana Plaza, in the industrial suburb of Savar, 20 miles northwest of Dhaka, including many injured, but there is no official estimate of the numbers still missing.
The disaster, believed to have been triggered when generators were started up during a blackout, has put the spotlight on Western retailers who use the impoverished South Asian nation as a source of cheap goods.
Nine people have been arrested in connection with the disaster, including the building's owner and bosses of the factories it housed.
Hundreds of relatives remained at the site, some holding up photographs of family members. Rescue workers have found it increasingly difficult to identify decomposing bodies and are using ID cards found on them or their mobile phones to do so.
"A total of 156 unidentified victims have been buried," said Dhaka District Administrator Mohammad Yousuf Harun, adding that DNA samples taken from the bodies had been preserved so tests could be done if relatives come forward later.
The government has accused the owners and builders of the complex of using shoddy construction materials, including substandard rods, bricks and cement, and failing to obtain the necessary clearances.
Bangladesh's garment industry, which accounts for 80 percent of its exports, has seen a series of deadly accidents, including a fire in November that killed 112 people.
(Reporting by Ruma Paul; Editing by Matthew Green and Alex Richardson)
http://www.reuters.com/article/2013/05/10/us-bangladesh-collapse-idUSBRE94905V20130510
AlJazeera
Woman who survived 16 days in collapsed building: 'Never dreamed I'd see the daylight'
By Ian Johnston and Sohel Uddin, NBC News
A mother who was pulled alive from the ruins of an eight-story factory in Bangladesh admitted Friday that she "never dreamed I'd see the daylight again" after more 16 days in the rubble.
Reshma Begum, a seamstress who is married with a young son, was found trapped in a mosque in the building's basement after about 391 hours.
A woman who survived more than 16 days in the rubble of a collapsed factory building in Bangladesh was rescued on Friday.
"I heard voices of the rescue workers for the past several days," Begum told private Somoy TV station from her hospital bed. "I kept hitting the wreckage with sticks and rods just to attract their attention. No one heard me. It was so bad for me. I never dreamed I'd see the daylight again."
She added: "There was some dried food around me. I ate the dried food for 15 days. The last two days I had nothing but water. I used to drink only a limited quantity of water to save it. I had some bottles of water around me."
The April 24 collapse of the Rana Plaza complex, about 20 miles northwest of Dhaka, was the world's worst industrial accident since the Bhopal disaster in India in 1984, Reuters reported. The death toll reached at least 1,038 on Friday.
One expert rescuer said he had never heard of someone surviving for so long in a collapsed building, saying it was "incredible" Begum was still alive.
Bangladesh's Daily Star newspaper said the first sign there was a survivor came when a rescuer heard groans coming from the basement at about 3:15 p.m. local time on Friday (5:15 a.m. ET).
A senior rescue official said Begum was first spotted by a 15-year-old volunteer helping at the site called Monowar.
Munir Uz Zaman / AFP – Getty Images
The factory building — once eight-stories high — is now almost at ground level.
Bangladesh's Independent newspaper quoted a rescuer who told local television that "as we were clearing rubble, we called out if anyone was alive."
"Then we heard her saying, 'please save me, please save me.' Since then she has been talking to us," he added.
She was given water and food as rescuers tried to reach her, the Star newspaper said, and she was freed just over an hour later.
Local television showed the young woman, who was wearing a purple dress, being carried from the rubble to an ambulance that took her to a military hospital.
The rescue official said she was dehydrated but able to walk, and Moazzem Hossain, an army major, also told the Star that she was in "good health."
Ray Gray, who spent 22 years as a rescuer at many of the world's major earthquakes, said it was "incredible" that she was still alive after more than 16 days.
"She's a very, very lucky lady," he said. "It's certainly the longest I've heard of."
Gray, who recently retired from working with the Scotland-based International Rescue Corps, said without access to water most people would be dead within a week.
He said the longest rescue he was involved in personally was of a woman in the city of Duzce, Turkey, who was trapped for four or five days after an earthquake in 1999. A closet fell on top of her and protected her from her house, which collapsed in the quake. She survived despite having no water or food.
The disaster, believed to have been triggered when generators were started up during a blackout, has put the spotlight on Western retailers who use the impoverished South Asian nation as a source of cheap goods.
Reuters and The Associated Press contributed to this report.
http://worldnews.nbcnews.com/_news/2013/05/10/18167683-woman-who-survived-16-days-in-collapsed-building-never-dreamed-id-see-the-daylight?lite
http://landing.newsinc.com/shared/video.html?freewheel=91002&sitesection=selatimes&VID=24812221